Welcome to East Java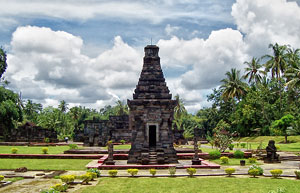 East Java is one of Indonesia provinces. It is located on the eastern part of Java Island and near to Madura and Bawean islands. It state in the West neighbor of Bali, across the small Strait of Bali. East Java tourism offer attractions, from historical site like temples to recreational spots like beaches, lakes, volcanoes, marine gardens and wildlife reserves. Magnificent mountain sceneries, include the craters and the famous of Mount Bromo, the "sulfur mountain" of Welirang and rugged line Plateau. Remaining the glory of Majapahit Empire, the ruins nowadays is still exist as an history witnesses with some archaeological discoveries. East Java government have claim this historical site against colonial forces since 1945
The administrative center of the province is located in Surabaya, which is the second largest city in Indonesia after Jakarta and as a major industrial center and business port. East Java is also considered as a national industrial province. The economic commodity is coming from agriculture; include of coffee, mangoes and apples, fishery and oil industries. The transportation to go to East Java area can be reach by public vehicle or train services. There are also air services between Surabaya and other cities like Bali or Jakarta or some other provinces. Madura Island, which is famous for its bull races, is part of East Java province, though it has its own traditions and language. The history dates back numbers of invasion in East Java like the founding of prehistoric animals and the site of the Java man at Trinil, Ngawi or some hidden ruin temples which settled on 7th century AD.
Where to Stay
As one of interesting tourism destination, East Java has already equipped by some tourism accommodation to comfort the visitors to stay longer. Almost in all East Java regencies have equipped with complete facilities, so that the visitors feel no worries about accommodation and everything they need. Just enjoy your holiday in East Java and explore the tourism objects. Just stay as like your own home.
Map
Here comes the complete map of East Java. We present the map in medium and high resolution. It also complete from all East Java regencies. Find here the detail of East Java tourism and get your back pack to have a journey with our high resolution map as your personal guide.
East Java Site
To prepare your journey before get pack to East Java, you can first brows on www.eastjava.com. Get complete information of East Java tourism objects and culture with hundreds photos inside. Everything is on for what you need for.
Madura Island
Madura island is one of exotic island which is part of East Java province. The local inhabitant is Madurese people. They have strong temperament yet unique culture. Explore Madura Island and see the exotic one. They have many things to remember, like, the annual ceremony of karapan sapi, their particular batik Madura, their traditional food and so on.
The Legend of Majapahit
In 14th century, East Java was part of the biggest and the most powerful Kingdom in Southeast Asia named Majapahit kingdom. Nowadays, the relic of Majapahit Kingdom is still exist remaining the history itself, and it lies on East Java. Enjoy the ruin of history by looking for temples, statues, remarkable residents, ancient tools and many things about Majapahit Kingdom. Visit now!